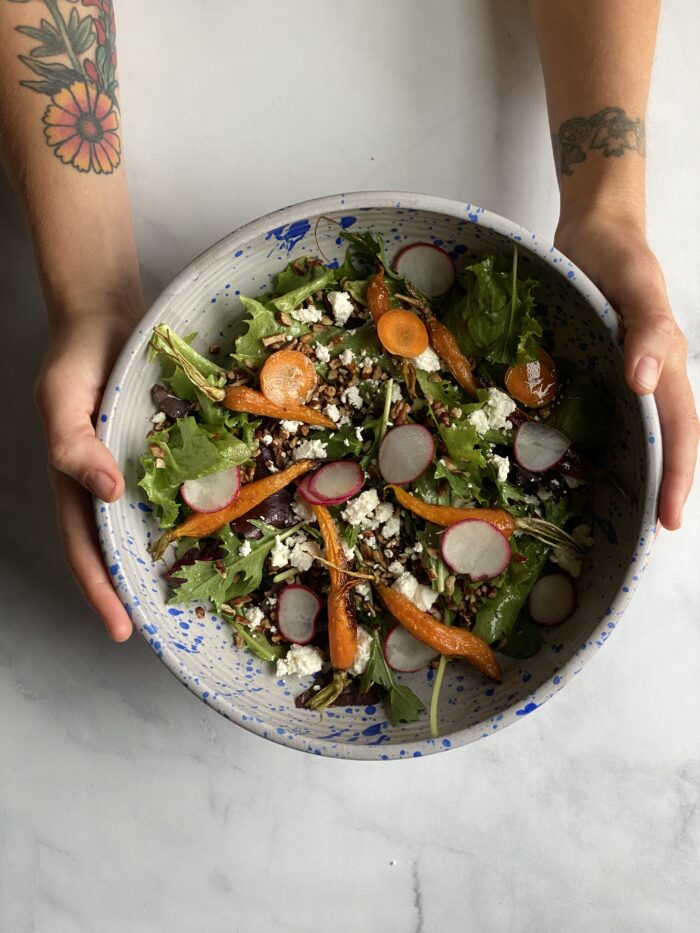 When you think of a salad, what do you imagine? Some basic lettuce with your standard veggies and dressing? Maybe you throw some protein like chicken in there to add something a bit more filling?
That's all well and good, but a salad can be so much more. In this Master Salad Guide, we're sharing how to make a salad that offers tasty, satisfying nutrition for every time of year. You can easily create a delicious salad using fresh Pennsylvania vegetables and fruits to capture the season's flavors.
You read that right—a salad doesn't only have to be iceberg lettuce and the same veggies every time. Get creative by tossing in some unique greens, fruits, and proteins. Plus, you can even make salad dressings from home to really mix things up and enjoy whatever flavors you're feeling.
Below, we're giving you our go-to salad formula, which will serve as an easy foundation for you to build any salad. Then, we'll share some salad recipe ideas for every season to get started.
Go-to Salad Formula
Wondering how to make a salad with all that fresh produce you just brought home? Perhaps you joined a CSA and got some new items you haven't tried before. The beauty of salads is that you can customize them however you want.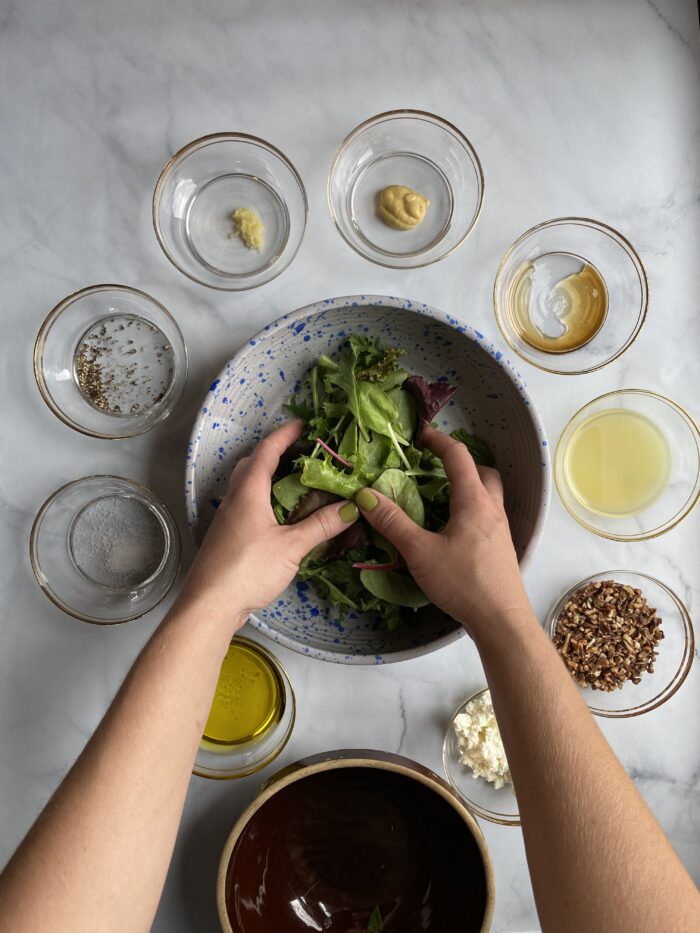 Enjoy balanced flavors and textures and a filling yet healthy salad by including the following key ingredients:
Bed of greens: Of course, you can always go raw, but try cooking them for more of a bowl!
Nut or seed: Add some crunch and some extra protein.
Cheese: Certain cheeses complement specific fruits and vegetables beautifully.
Veggie: Try roasted local PA veggies for the caramelized flavors—also great if you're going for a bowl.
Fruit: Either fresh or dried fruit works depending on the texture you want.
Additional protein: Add your favorite meat, seafood, beans, or other vegetarian option.
Dressing of choice: Easily make your own with simple ingredients you have in your kitchen.
Using a good mix of these items will ensure a delicious, nutritious salad, whether you serve it as a side or as the main course.
Protein Options
Have you ever finished a salad and still found yourself hungry? Chances are, you need to add some protein. Consider the season and your other ingredients to decide which option will best complement your other flavors. Common protein options include:
Hard-boiled eggs
Chicken
Chicken salad
Steak
Pulled pork
Bacon
Salmon
Shrimp
Tuna/tuna salad
Black beans
Red beans
Chickpeas
Planning out your meals for the week? Cook your protein in bulk ahead of time! Things like hard-boiled eggs, chicken, pulled pork, bacon, and beans are easy to prep in large quantities. Then all you have to do is throw some in each salad.
More Salad Tips & Options
Pack on the flavor and nutrients and keep your salads simple by:
Adding flavor with fresh herbs, many of which also have additional health benefits.
Boosting your healthy fats with superfoods like avocado or olives.
Changing it up and make it more filling by serving over a cooked grain:

Farro
Quinoa
Couscous
Wild rice
Bulgur
Wheatberries
Barley
Pasta

Using your leftovers (roasted veggies, proteins, or cooked grains are also easy to cook in bulk).
Salad Recipe Ideas for Every Season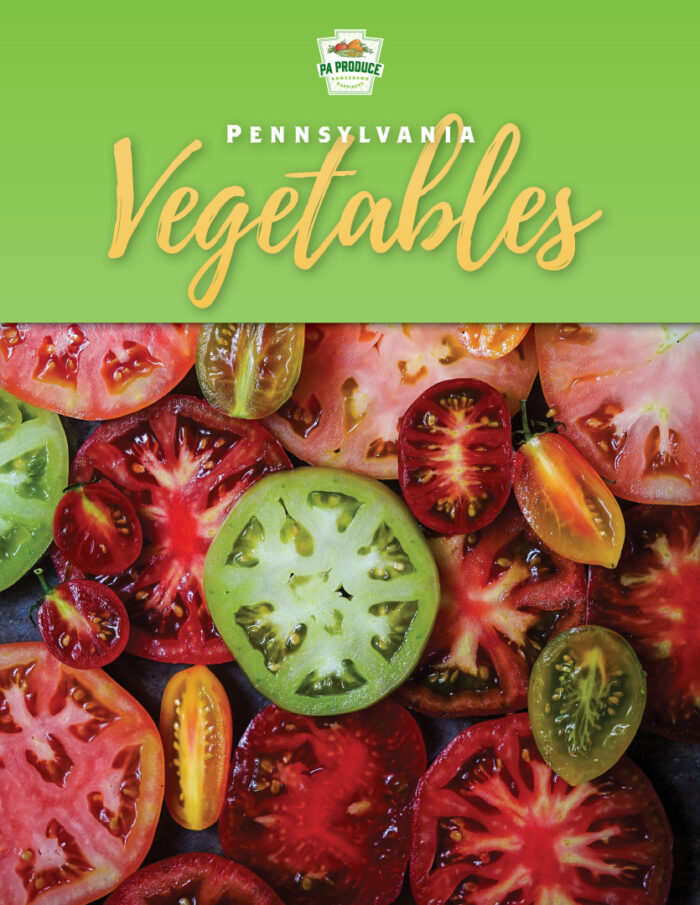 So how do you make a salad using in-season produce? First, learn when Pennsylvania vegetables and fruits are in season in our digital cookbook, now available for download!
Once you grasp which produce is available and when, you can stock up on and properly store veggies to get the most out of them and enjoy easy, flavorful salads.
Next, we've put together some combinations for you to try. Take these more as inspiration than precise recipes. Remember, the key is trying new ingredients to spice up your salads! They're all great starting points, and you can substitute each ingredient based on preferences and dietary restrictions.
Spring
Ah, springtime, when everything is in bloom, and we're ready to step back out into the sun. This time of year calls for fresh flavors that balance a little bit of the sweet and the savory. Follow our salad formula and toss a spring salad containing any or all of these items:
Spinach
Almonds
Goat cheese
Sugar snap peas, radishes, or scallions
Fresh strawberries or dried cranberries
Dill or parsley
Chicken or Chickpeas
For your dressing, try our easy honey vinaigrette, originally found in this blog post.
Summer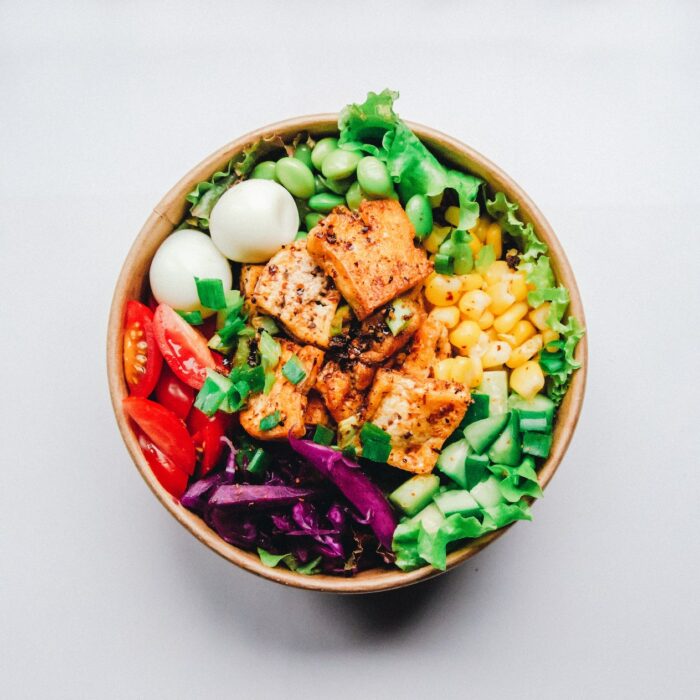 When it comes to summer salads, we all look for bright, light, and refreshing. This time of year is great for getting creative, particularly with your greens. Try a mix of:
Kale, chard, sweet potato greens, or purslane
Pumpkin seeds
Farmer's or feta cheese
Sweet corn, tomato, or sweet bell peppers
Melon (e.g., honeydew, watermelon, or cantaloupe)
Cilantro
Shrimp or beans
Top it off with one of these brightly flavored dressings:
Fall/Winter
When the weather gets chilly, we begin to crave those comfort foods. You can still keep it healthy, nutrient-dense, and satisfying with fall and winter salad options, like:
Cabbage
Pumpkin seeds, sunflower seeds, walnuts, or pecans
Cheddar or brie
Roasted squash
Apples or dried figs
Parsley
Bacon or hard-boiled egg
Try these salad dressing recipes from our Pennsylvania Vegetables Cookbook—they may be paired with other recipes, but you can use them on any cold-season salad:
Apple Walnut Vinaigrette (p. 46)
Apple Cider Brown Sugar Vinaigrette (p. 59)
Armed with our Master Salad Guide and cookbook, you'll be prepared to enjoy a variety of salads year-round. Start with this salad formula, but remember to switch it up with new and even cooked produce once in a while to reignite those taste buds! Check out our other recipes for more inspiration.