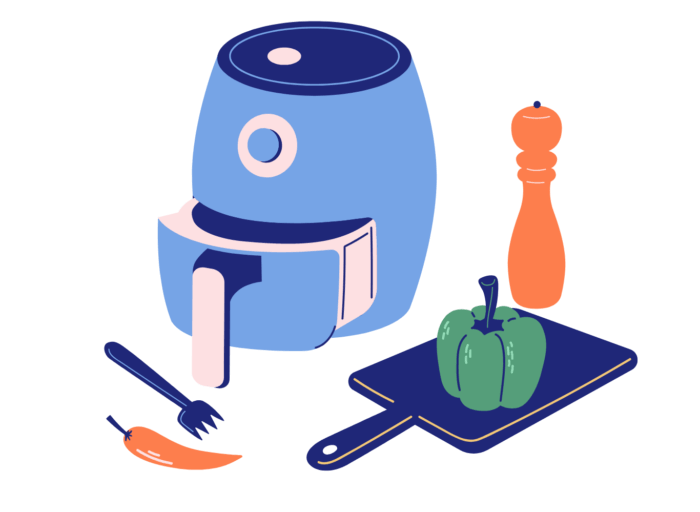 39 Air Fryer Recipes that Go Heavy on the Veggies


Making the most of local produce is easier than ever thanks to the air fryer. With an air-fryer recipe for every moment of the season, you can go wild at the farmer's market and eat every last bit of the produce you bring home.
Here are some favorite air fryer recipes for your farm market haul:
Air Fryer Recipes for Your Favorite Vegetables
Best Damn Airfyer Asparagus – This simple asparagus recipe calls for only six ingredients and takes just ten minutes to prepare. It couldn't be easier to get crispy, flavor-packed asparagus to the table.
Air Fryer Snap Peas – Snap peas are delicious raw, but sometimes the bag gets away from you and they lose their crunch. Throw the remaining snap peas in the air-fryer for a side dish that's tender, easy, and ready for your favorite sauce or spices.
Crispy Air Fryer Beets – Roasted beets are one of the gifts of root-vegetable season. Get the same flavor in half the time when you prepare these crispy air fryer beets instead.
Delicious Air Fryer Broccoli – Air fryer broccoli has caramelized edges, crisp florets, and pairs perfectly with your favorite dipping sauce. It's even easier than steamed and far more interesting to eat.
Air Fryer Cabbage Wedges – The mustard, smoked paprika, and apple cider vinegar in this recipe add a pop of flavor to simple cabbage. The air fryer gives it perfectly crisp edges and a tender interior.
Air Fryer Carrots – The air fryer produces carrots that are cooked evenly and quickly. It caramelizes the sugars in the carrots which makes everyone come back for seconds.
Air Fryer Celery Sticks – Yes, even celery can go in the air fryer! Air frying celery emphasizes the sweet flavor without sacrificing crunch.
Air Fryer Elotes (Mexican Street Corn) – The air fryer gets that classic charred flavor of street corn without needing a grill. Cheese and spicy mayo is just icing on the cake!
Air Fryer Chinese Eggplant – Best with long, thin Chinese or Japanese eggplants, this air fryer recipe only takes 8 minutes to cook. It's faster, more flavorful, and healthier than takeout!
Air Fryer Baba Ganoush Recipe – The air fryer makes cooking eggplant a breeze. After just 20 minutes, it's tender and ready to become a versatile dip or spread.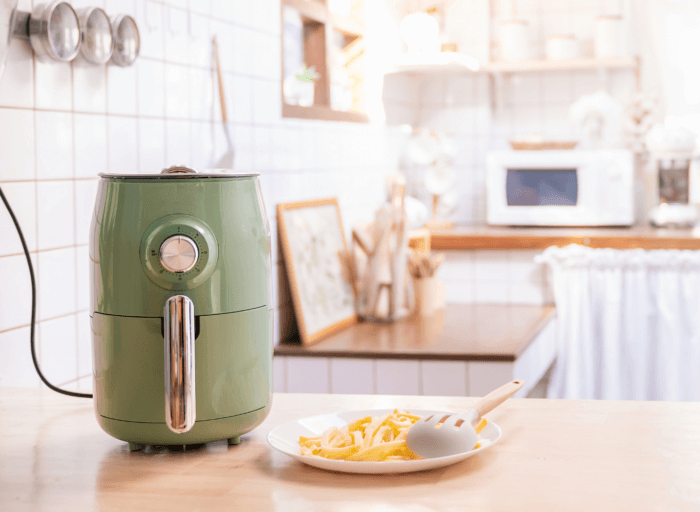 Air Fryer Onion Rings – Next time the craving for onion rings hits, skip the hot oil and make them in the air fryer instead. These crisp rings are full of sweet onion flavor.
Air Fried Spring Onion Pakoras with Green Chutney and Salad – These spring onion and chickpea flour fritters are the perfect way to use up extra scallions and spring onions. They're a breeze to make and even easier to eat.
Air Fryer Spring Scallion Pancakes – Air fryer scallion pancakes have all the flavor of your Chinese takeout favorite with a fraction of the oil. Rolling out the pancakes is a perfect project to do with little ones.
Air Fryer Steak Fajitas with Onions and Peppers – Fresh PA peppers shine when paired with steak and onions. Plus the air fryer means the dish is on the table in less than half an hour, perfect for busy nights.
Air Fryer Radishes with Parm – If raw radishes have too much of a spicy bite for you, try roasting them in the air fryer. They become soft and sweet which pairs perfectly with salty parmesan cheese.
Air Fryer Pumpkin – Air fryer pumpkin is the perfect side dish for fall. Whether you make it spicy with cumin and chili or sweet with maple syrup, you'll love how quickly you can get this dish on the table.
Air Fryer Blue Cheese and Bacon Broiled Tomatoes – Change up your BLT routine by combining bacon, blue cheese, and tomato in the air fryer instead. These tomatoes are rich and funky, perfect for a summer dinner party.
Air Fryer Italian Stuffed Tomatoes – Brown rice, goat cheese, and basil are the perfect filling for stuffed tomatoes. The air fryer speeds up the process.
Air Fryer Southern Fried Squash – Breading summer squash in a combination of bread crumbs and cornmeal ups the crunch and the flavor of these fried squash. Cooking them in the air fryer cuts down on the amount of oil used and the mess.
Air Fryer Japanese (Hakuri) Turnip Recipe – Hakuri turnips are one of the first vegetables to appear each spring. They become delightfully sweet, tender, and caramelized after just 20 minutes in the air fryer.
Air Fryer Zucchini Chips – The parmesan in the coating of these zucchini chips makes it impossible to eat just one! Use up that bumper crop of zucchinis by making a batch of chips each week.
Air Fryer Beef and Broccoli – Beef and broccoli in the air fryer take just 30 minutes from fridge to table. The secret to this recipe is making the sauce in the microwave, then tossing it with the cooked beef and broccoli at the end.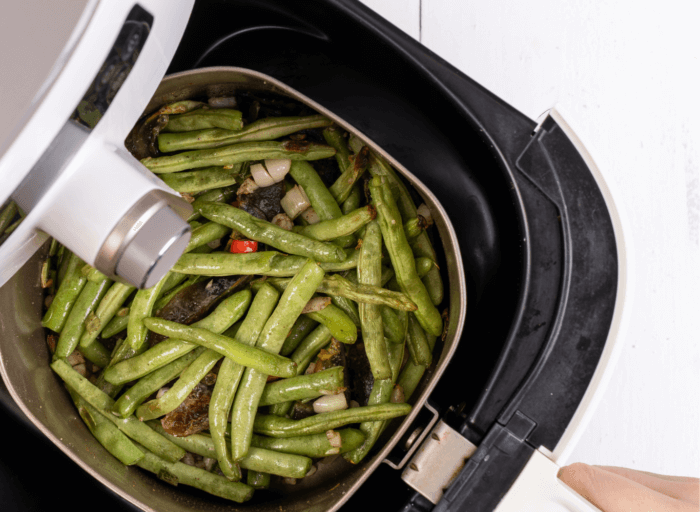 Air Fryer Jalapeno Poppers – Diced pickled jalapenos in the filling amp up the flavor of these quick and easy jalapeno poppers. They only take 5 to 7 minutes for the cheese to melt and the exterior to crisp up.
Air Fryer Sweet Potato Fries – Long wedges of sweet potato crisp up perfectly in the air fryer as long as you give them plenty of space. This recipe recommends making your sweet potato fries in two batches.
Air Fryer Brussels Sprouts – Sway even the pickiest eater with crispy Brussels sprouts coated in soy sauce, honey, and sweet chili sauce. Make sure to keep the sprouts in a single layer to maximize those crisp edges.
Air Fryer Buffalo Cauliflower Bites – Bread cauliflower then cook in the air fryer until it's crispy and toss with buffalo sauce. This game day treat is so good that you won't even miss the meat!
Air Fryer Fried Green Tomatoes – Fried green tomatoes are one of the joys of summer. A coating of cornmeal and panko plus a quick trip to the air fryer yields crispy tomatoes with a fraction of the effort needed to deep fry.
Air Fryer Truffle Fries – This recipe calls for soaking the potatoes before drying them and air frying. The process results in crisp fries that get tossed with parm and truffle oil for a decadent and delicious side dish.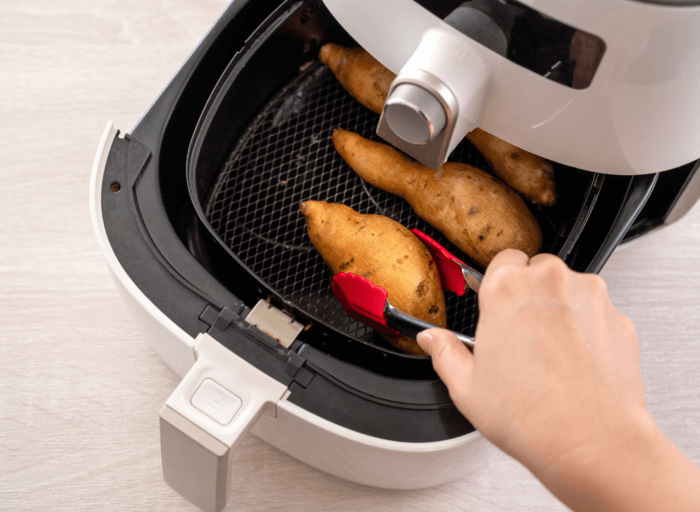 Air Fryer Zucchini Corn Fritters – Zucchini and corn fill up the farm markets for months each summer. This five-ingredient fritter uses the air fryer to turn them into a perfect healthy snack.
Air Fryer Recipes for Meals with PA Farm Market Veggies
Air Fryer Egg Fried Rice – You can use any leftover veggies to make this quick and easy egg fried rice in the air fryer.
Crispy Air Fryer Tofu with Peanut Sauce and Squash Noodles – This recipe uses the air fryer to make crispy tofu and mushrooms served on top of sauteed summer squash and zucchini noodles. It's a bit time-intensive, but more than worth the effort!
Air Fryer Fried Pickles – Once you've made pickles with cucumbers from the farmers market, you can then make the best snack of all: fried pickles! The air fryer makes it possible to get this treat on the table in just 15 minutes.
Air Fryer Egg Rolls – Get the whole family involved in rolling these easy egg rolls. Filled with ground pork, cabbage, and carrots, they're a healthier alternative to takeout.
Air Fryer Stuffed Peppers (Vegetarian) – Tomatoes, rice, and lots of cheese make up the filling for these simple stuffed peppers. Make sure to prop the peppers up while they cook to keep the filling in place.
Air Fryer Stuffed Cabbage Rolls – Vegetable recipes don't have to contain only vegetables! The rice and pork in these cabbage rolls make them a full meal, while the air fryer cuts down on cooking time and keeps them from drying out.
Air Fryer Cauliflower Tacos – Crispy pieces of cauliflower are the perfect taco filling, especially when paired with a fresh fruit salsa. Don't be afraid of heavy seasoning on the cauliflower.
Air Fryer Chicken & Veggies – Simple and straightforward this recipe pairs moist roast chicken with delicious vegetables straight from the farm market. It's low-carb, gluten-free, dairy-free, and takes only 20 minutes to make!
Eating local vegetables from PA farm markets is easier than ever thanks to the air fryer. These recipes will help you get healthy, delicious meals and snacks on the table in no time at all. Enjoy!