There's no denying that fresh, local PA vegetables often taste best when there's little preparation involved. A peak season tomato right off the vine or perfectly picked zucchini with the slightest pan sear, and just a sprinkle of salt, can deliver the most satisfying flavors to your palate.
Yet, even the most simply delicious recipes can lose their allure when you're using them for the umpteenth time. Sometimes it helps to think beyond the main attraction. Instead of changing up your favorite players, the PA Veggies, consider adding a new, but super simple, element that plays nicely with them and also brings fresh flavors to the table.
Dips will save any tried and true recipe that's beginning to get stale and they'll add a fun twist to everything else that you test out in the kitchen, too. Dips are also a fantastic way to spruce up a dinner menu or fulfill potluck duties, and they can often double as salad dressings or marinades, depending on the ingredients and consistency. Several delicious dips can be whipped up in just a few minutes and with very little ingredients, many, or all, of which you keep on hand regularly.
Get started with these three delicious dips. Each one pairs beautifully with PA vegetables and each recipe requires just three ingredients.
Download video HERE.
Peanut Sauce
This creamy, nutty dip hits the spot for something rich and flavorful to pair with your PA Veggies!
What You'll Need:
1/4 cup honey
1/4 cup creamy peanut butter
1/4 cup low-sodium soy sauce
Whisk
Small mixing bowl
How to Make:
In a small mixing bowl, add all ingredients.
Whisk together until combined.
Expert Tips:
Try using tahini or cashew butter in place of the peanut butter.
Garnish with basil and minced jalapeño, and serve with cucumber slices.
Add 1/8 teaspoon of minced garlic or ginger for extra flavor.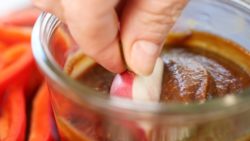 Balsamic Dip
Bathe and dip vegetables in this light, tangy vegetable dip made with balsamic vinegar, a go-to Italian classic.
What You'll Need:
1 1⁄2 tablespoons balsamic vinegar
1/4 cup olive oil
2 teaspoons honey
Mason jar or salad dressing shaker
Small bowl
How to Make:
Combine vinegar, oil and honey in a mason jar or salad dressing shaker.
Swirl and shake to blend all the ingredients together.
Pour into a small serving bowl for dipping.
Expert Tips:
Add 1/4 teaspoon dijon mustard and shake vigorously for a spicy kick.
Season with a pinch of dried thyme and a pinch of ground black pepper for extra flavor.
Garnish with fresh minced chives.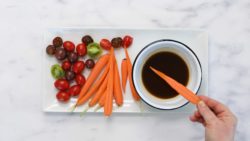 Lemon Dill Yogurt Dip
Smooth Greek yogurt creates a protein-packed vegetable dip, featuring flecks of green and a light, lemony flavor.
What You'll Need:
1/3 cup fresh dill, minced
1 tablespoon lemon juice
1 cup plain Greek yogurt
Small bowl
Large spoon
How to Make:
Mix the dill, lemon juice and yogurt together in a small bowl.
Stir well to combine.
Serve with cut vegetables.
Expert Tips:
Add 1 teaspoon lemon zest to the mixture for an added depth of flavor.
Season to taste with salt and pepper, za'atar spice or 1/8 teaspoon of cumin powder.
Pair with slices of fresh fennel bulb and fried zucchini sticks for a Mediterranean-inspired appetizer.
Sprinkle in a spoonful of capers for a unique, briny flavor.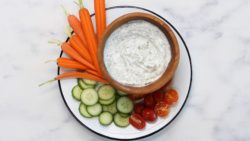 Show your support for local by submitting your thoughts and feedback here.