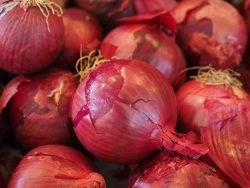 When you slice into an onion, do you consider the logistics it took to get there? Most likely not and, if your circle of close friends doesn't include a farmer, chances are you'd be surprised by what a full farm crew manages to accomplish on a PA produce farm. As romantic as the pictures paint it at times, it is rarely glamorous and easy going. Want to have a quick look?
PRE-SPRING
Early in the year, it's quieter and low impact. But the farm owner (and sometimes family) is bustling – planning what crops go where and how much of each, anticipating the challenges ahead having learned last season's lessons, hiring carefully to ensure a cohesive and hard-working team. Teeny little onions seeds are already in trays of healthy soil by February. Hopes are high and farmers can't be risk averse.
Before spring even arrives… bring on the staff! The management team rolls in to do hours of careful seeding into flats while the ground is still frozen. At the first sign of the ground being "fit to plant" (i.e., no longer a frozen tundra), planting begins with the first peas, carrots, and beets seeded directly into the cold soil. And then, just when the team thinks they'll never get it all done, the fresh-faced interns and farm hands arrive.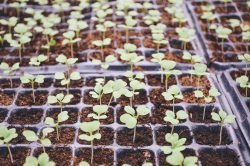 MID to LATE SPRING
Now there's a genuine flurry of activity. The days are getting longer and they're filled with weeding, watering, tending, and checking plants for stress or pests. Stewardship is the word here! The farmer's team needs to be vigilant and feel a sense of responsibility to each veggie – covering, uncovering, recovering long rows of new growth to be able to harvest as early as possible. Graciously, those first veggies harvested are lighter, like lettuce and scallions, to get the team in shape. Because no doubt everyone is exhausted and sore from all the new lifting, bending, pulling, and crouching. This is when the team gels. They show off their blisters from the hoe handles; pick on the person with the worst sunburn; share sports drink mixes to help each other not pass out; and take afterwork trips together to the farm next door for ice cream.
SUMMER
The team has hit their stride. A good staff manager has helped to create camaraderie, cooperation, and healthy competition. The staff is feeling more confident in their knowledge and abilities. And then… reinforcements show up – the coveted volunteers!
Harvesting is often a daily activity, rotating sets of crops like tomatoes and cucumbers to every other day, and most greens picked fresh each day. Farm workers get in a groove and discover what they love to harvest the most. Each worker gets good at reporting back about the state of a crop. Is there a lot or little left? Pests moving in? Looking super dry and need irrigation? Anyone need a sports drink packet?
Summer is the sweet spot. So much great food is arriving at the pack house, and the wash station employee (picture a volunteer with a big rubber apron on) is scrubbing carrots, dunking eggplant in water 3 times to cool it down from the high tunnel heat, and washing, spinning, and bagging tender greens. There's not a moment to slow down with crate after crate of freshly harvested veggies waiting to be carefully tended to one last time before they come to you.
The summer always means high energy at farm stands and CSA pick ups. The farm team is puffed up with pride in all the care that went into helping the land produce the gift of food… along with a secret expectation that all you eaters relish the greatness of those veggies.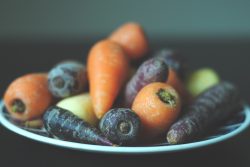 AUTUMN
The team is tired. And now the push for soil health management is upon them. Cover crops (plants that give back to the soil from fall to early spring) need to get seeded right on time and it feels like spring again. And then there's the garlic that needs planting. Interns go back to college and farm staff is sometimes halved, but the remaining crew feels like this land is part of them now. They keep their chins up and motor on!
The air gets crisp and the harvest changes to super heavy crops like squash, potatoes, and carrots. Some CSAs and farmers' markets wrap up after Thanksgiving, while others push it to the limits and keep going all year. The seasonal staff is gone for a while, and then the farmer and family begin it all again with hopes for a great season and a big crowd of local veggie lovers eager for a spring harvest.
So the next time you eat an onion in August, remember that its seed hit the soil the first week of February, and eventually made its way to you thanks to many caring and dedicated individuals.
Show your support for local by submitting your thoughts and feedback here.