We've all been there. Whether we grow it, receive a CSA box, or purchase it from our local markets, there's rarely a Pennsylvania growing season that passes without dumping an abundance of zucchini into our lives.
Preserving is always an option but not practical for every consumer's lifestyle. Even if you are a master at prepping veggies for enjoying in the off-season, it's understandable if you get the itch to mix things up now and then. This way, when you reach into your freezer for a taste of the season, you're always pulling out something new and exciting.
Zucchini is incredibly versatile (did you know it's even great to enjoy raw) and exploring the versatility of PA's summer squash just got a little easier thanks to these three delicious recipes. Each variation utilizes entirely different cookings methods and delivers a unique finished product. So, smile, enjoy the homegrown happiness, and get ready to bring new life into your kitchen.
Download video HERE.
Chocolate Muffins
Decadent chocolate muffins, made moist and extra-delicious by the unexpected addition of zucchini… move over pumpkin bread!
What You'll Need:
1 1/2 cups zucchini, grated, with stems and bottoms removed
2 large eggs
1 cup all-purpose flour
1/4 teaspoon baking powder
3/4 teaspoon baking soda
1/2 cup unsweetened cocoa powder
1/4 teaspoon salt
3/4 cup semi-sweet chocolate chips
1 teaspoon vanilla extract
1/2 cup granulated sugar
1/4 cup canola or vegetable oil
1/4 cup Greek yogurt, non-fat, plain
Large mixing bowl
Medium mixing bowl
Muffin tin
Butter or vegetable oil spray
How to Make:
Preheat oven to 375°F and set oven rack in the middle position.
Grease muffin tin with butter or vegetable oil spray.
In a large mixing bowl, combine flour, baking powder, baking soda, cocoa powder and salt.
In a medium mixing bowl, combine eggs, vanilla, sugar, oil and yogurt, whisking to incorporate.
Add the egg and yogurt mixture to the dry ingredients and gently combine with a fork until all the dry ingredients are wet.
Press the zucchini between paper towels to remove excess moisture and then discard the paper towels.
Add the zucchini to ingredients in bowl, and fold to combine.
Distribute mixture in muffin pan and then sprinkle the chocolate chips evenly over each muffin.
Bake for 20 minutes at 375°F and then remove from oven to cool on a rack.
Remove muffins from pan when cool to the touch.
Expert Tips:
Garnish with pumpkin seeds before baking.
Grate zucchini with a food processor to speed things up.
Add a 1/4 teaspoon of cinnamon or pumpkin pie spice to the batter before baking.
Top with cream cheese frosting and serve like cupcakes.

Zucchini Noodles
Change the way you think about pasta, and lower the carb count, with this delicious vegetable alternative!
What You'll Need:
Vegetable spiralizer
2 large zucchini, stems and bottoms removed
2 tablespoons olive oil
2 cloves garlic, peeled and minced
Zest from 1/2 a lemon
4 teaspoons grated Parmesan cheese
1 tablespoon mint leaves, cut into thin strips (chiffonade)
How to Make:
Spiralize the zucchini into thin noodles.
Heat oil in a medium-sized skillet over medium heat.
Add garlic and lemon zest to the olive oil.
Sauté until fragrant, being careful not to brown the garlic.
Add the zucchini to the skillet and toss while heating.
Don't overcook! Just heat the zucchini through.
Top with Parmesan and mint. Serve and enjoy!
Expert Tips:
Add chili flakes or sun-dried tomatoes.
Substitute spiralized carrots for half of the zucchini.
Garnish with bread crumbs and paprika.

Pan-Fried Fritters
Find tastebud happiness with these crispy summer squash fritters!
What You'll Need:
4 cups zucchini, shredded, stem end removed
2/3 cup all-purpose flour
2 large eggs, lightly beaten
1/3 cup sliced scallions (green and white parts)
1/4 teaspoon salt + extra for removing water from zucchini
1/8 teaspoon pepper
Vegetable oil
Sour cream (optional, for serving)
Large mixing bowl
Large sauté pan
How to Make:
Lightly sprinkle salt on the shredded zucchini and press zucchini with paper towels to remove as much liquid as possible. Discard the paper towels.
Place the zucchini in a large mixing bowl.
Add the flour, egg, scallions, salt and pepper. Mix thoroughly.
Heat a large sauté pan over medium-high heat and coat the bottom with the vegetable oil.
Once oil is hot (it should simmer when the pan is gently rocked), add the zucchini mixture to the pan in 1/4-cup mounds. Flatten mounds with a spatula, and be sure to space them about 2" apart.
Flip when browned (after a few minutes) and press lightly to cook the other side.
Remove from pan when browned on both sides, then place on a plate lined with paper towels to drain.
Repeat with all the remaining mixture.
Serve with sour cream and scallions. Enjoy!
Expert Tips:
Dredge the zucchini mixture with panko bread crumbs before frying for extra crunch.
Top with Cajun seasoning or Old Bay seasoning for added flavor.
Add a handful of corn kernels to the zucchini mixture for something different.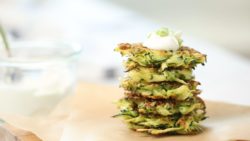 Show your support for local by submitting your thoughts and feedback here.