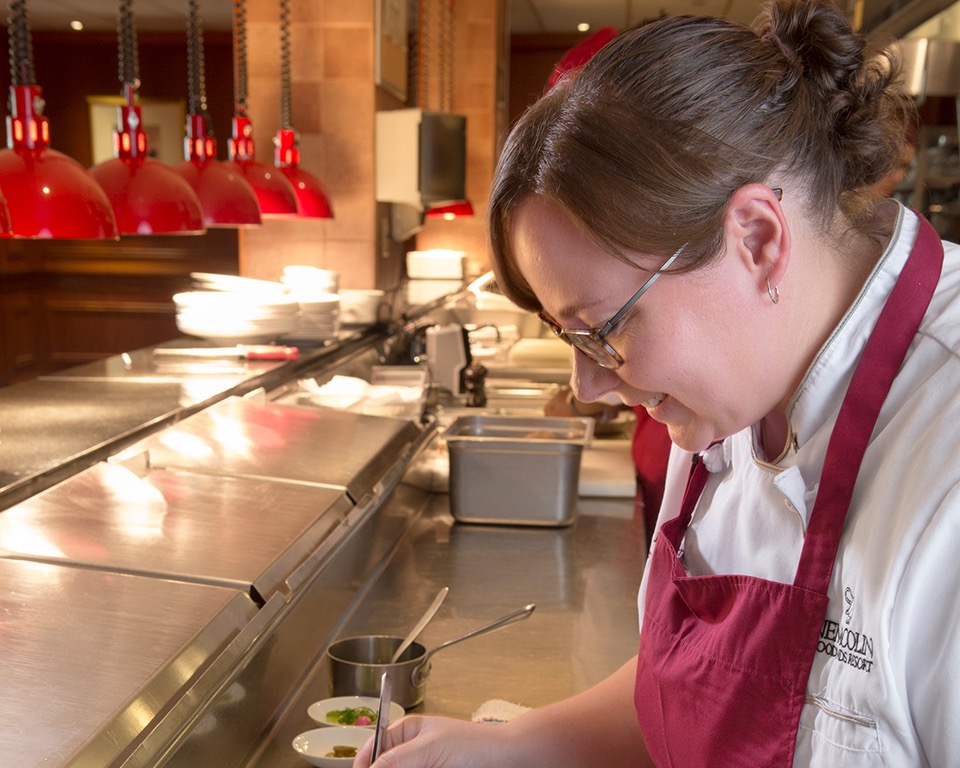 Chef Kristin Butterworth, chef de cuisine at Lautrec of Nemacolin Woodlands Resort, is no stranger to the connection between the farm and the plate, having grown up in western Pennsylvania, where she learned to grow and pick vegetables before preparing and preserving them in the family kitchen. Chef Kristin's accolades include numerous Forbes Five-Star and AAA Five-Diamond awards.
"This is the time of year that if I'm home I do a lot of grilling … [and] simplicity is key," says Chef Kristin. "Being able to take these beautiful fresh vegetables and literally just pick them out of the garden [and cook them] is ideal. Cooking outside is an escape for everybody … to get out, enjoy the sunshine and really highlight the amazing fresh produce that we have going on in the area."
We teamed up with Chef Kristin to provide the grilling tips below to help you elevate and accentuate your farm-fresh Pennsylvania produce.
"I'm infatuated with grilled sweet potatoes," Chef Kristin gushes. "We work closely with one of our local farms and get them in the summer. They're absolutely amazing this time of year because the heat makes them really sweet and not as starchy. We pair them with Amish feta, jalapeno-infused honey and cilantro. I could eat this every day. The sweet potato is so sweet and then you have the spicy honey, salty cheese and fresh green cilantro. I'm just crazy about it. [This recipe] is really about what's local and what complements sweet potatoes the best."
Tip: If you want to try something a little different, substitute ears of fresh Pennsylvania sweet corn for the sweet potatoes. Cut the cobs in half and use them in place of the sweet potatoes as a delicious alternative to this amazing chef-tested recipe.
Take a tip from Chef Kristin and Lautrec restaurant and go local. "The cilantro is from our garden that's on the property, the sweet potatoes come from Footprint Farms, the honey comes from Michelle Wright … everything on this dish is locally sourced."
With the abundance of amazing produce, cheese and more that comes from Pennsylvania farms, there's no reason not to enjoy the local freshness and bounty of the summer season.
Recipe: Grilled Sweet Potatoes with Jalapeno Honey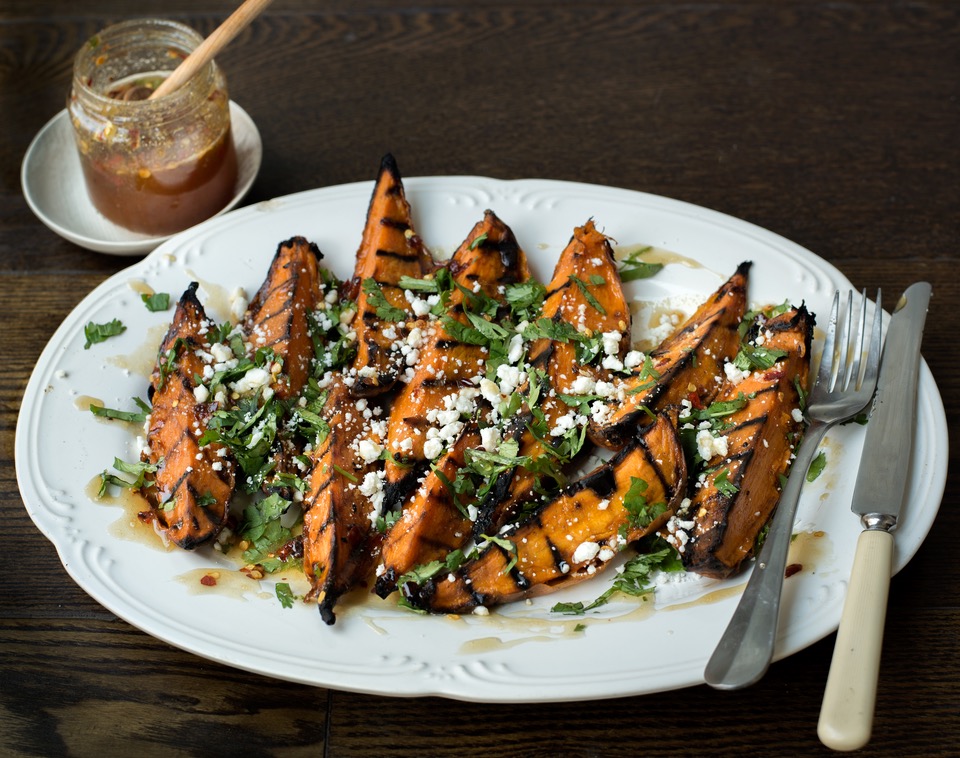 Ingredients
4 sweet potatoes, unpeeled
Kosher salt
Pinch of cayenne pepper
¼ cup canola or vegetable oil
Freshly cracked black pepper
¼ cup fresh whole cilantro leaves
1 cup Amish feta
1 cup jalapeno honey
Method
Par-cook the potatoes: Place in a pot of salted water and boil until fork-tender; let cool completely before slicing. Slice each potato lengthwise into quarters or eighths depending on size.
Preheat grill to medium-high or place a cast iron grill pan over medium-high heat. Mix 1 tablespoon salt and cayenne pepper together.
Brush the potato wedges with the oil and season with salt, cayenne and pepper. Grill until desired grill marks are acquired (including the skin) and just cooked through, about 1½ minutes per side.
Serve warm with a drizzle of jalapeno honey, crumbled dry feta and cilantro leaves.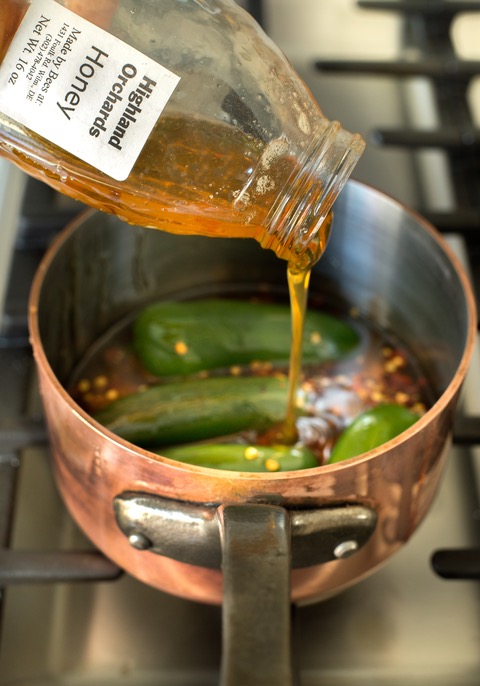 Ingredients: Jalapeno Honey
2 cups local honey
4 jalapenos
1 Tbsp. red pepper flakes
Method: Jalapeno Honey
Place all ingredients in a saucepan and place on low heat just until honey is melted. Place in refrigerator overnight before using.
Written by Nathan Greenwood
Recipe by Kristin Butterworth
Photo of Kristin Butterworth by Adam Milliron Photography
Photos of Recipe by Linda Schneider