Recipe by Chef Kristin Butterworth
Ingredients
4 sweet potatoes, unpeeled
Kosher salt
Pinch of cayenne pepper
¼ cup canola or vegetable oil
Freshly cracked black pepper
¼ cup fresh whole cilantro leaves
1 cup Amish feta
1 cup jalapeno honey
Method
Par-cook the potatoes: Place in a pot of salted water and boil until fork-tender; let cool completely before slicing. Slice each potato lengthwise into quarters or eighths depending on size.
Preheat grill to medium-high or place a cast iron grill pan over medium-high heat. Mix 1 tablespoon salt and cayenne pepper together.
Brush the potato wedges with the oil and season with salt, cayenne and pepper. Grill until desired grill marks are acquired (including the skin) and just cooked through, about 1½ minutes per side.
Serve warm with a drizzle of jalapeno honey, crumbled dry feta and cilantro leaves.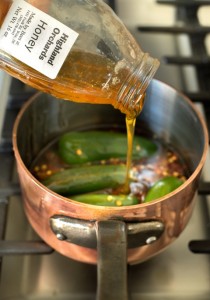 Ingredients: Jalapeno Honey
2 cups local honey
4 jalapenos
1 Tbsp. red pepper flakes
Method: Jalapeno Honey
Place all ingredients in a saucepan and place on low heat just until honey is melted. Place in refrigerator overnight before using.
Tip: If you want to try something a little different, substitute ears of fresh Pennsylvania sweet corn for the sweet potatoes. Cut the cobs in half and use them in place of the sweet potatoes as a delicious alternative to this amazing chef-tested recipe.
Photos by Linda Schneider