Italian Broccoli Puffs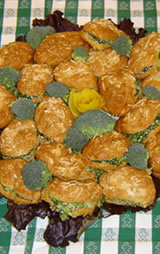 Cream Puffs:
1 c Water
1/2c Butter – unsalted (1 stick)
1/8 tsp Oregano – ground
1/2 tsp Paprika
1/2 tsp Black Pepper – ground
1 c Flour
3 T Parmesan or Romano Cheese – divided
5 Eggs
Preheat oven to 400ºF. Butter 2 large cookie pans, or line with parchment paper, and set aside. Over medium heat, boil water, butter and spices in a large saucepan. Add flour and stir until the mixture comes away from the sides of the pan and forms a ball. Remove from heat and add one egg, stirring until egg is incorporated. Add 1 T. cheese and remaining eggs, one egg at a time. Continue stirring until dough is shiny, using a mixer if needed. Dip a teaspoon into cold water and drop dough onto prepared cookie pans, one teaspoon at a time, rinsing spoon after making each puff. Sprinkle puffs with remaining cheese. Bake 25 to 30 minutes, or until puffs are evenly browned and high. Remove from heat and let cool completely on cookie pans.
Broccoli Filling:
3/4 c Parmesan or Romano Cheese
1/2 tsp Black Pepper – ground
1/4 tsp Nutmeg – ground
3 c Broccoli – finely chopped
1 T Lemon Juice – fresh
Mix together cheese, pepper and nutmeg. Set aside. Steam broccoli, drain and add cheese mixture. Toss in lemon juice and let cool completely. Cut cooled puffs in half horizontally. Fill with broccoli filling, replace tops of puffs and serve.
Yields 2 1/2 Dozen Puffs
Recipe by: Suzanne Pelton, Altoona
Finalist – Broccoli/Cabbage/Cauliflower
2005 Pennsylvania "Simply Delicious, Simply Nutritious" Vegetable Recipe Contest