Cooking a wholesome, veggie-packed meal doesn't need to take all night. With a little bit of planning, you can have a nutritious dinner on the table in fifteen minutes flat. Whether it's zucchini noodles ("zoodles"), veggie wraps or a burrito bowl you're craving, we've got recipes to help make these meals come together quickly, so you can spend less time in the kitchen and more time around the table with your family and friends.
Download video HERE.
Creamy Garlic Parmesan Zoodles
What You'll Need:
1 tablespoon butter
2 cloves garlic, minced
4 ounces cream cheese
2–3 tablespoons milk
1/4 cup Parmesan cheese
4–5 medium zucchini, spiralized
1/4 cup fresh basil leaves, torn
Salt and pepper, to taste
Sliced cherry tomatoes, optional
How to Make:
In a large pan, melt butter over medium-low heat. Then add minced garlic.
Let the garlic and butter cook together for a minute or so, then add cream cheese and milk.
Allow the cream cheese to melt and start forming a simple sauce. Then, add the basil leaves and season with salt and pepper, to taste.
Add in all the zucchini noodles. Toss the zoodles to coat with the sauce.
Add Parmesan cheese and cook all together, just until the noodles are barely fork tender and all the cheese has melted. If using, toss in sliced cherry tomatoes, and toss to coat with sauce.

Asian Veggie Lettuce (or Collard Greens) Wraps
What You'll Need:
1 bunch of collard greens or medium-size head leafy lettuce, rinsed and dried
1 large red bell pepper
1 large carrot
1 medium cucumber
1 (12-ounce) package extra-firm tofu, drained and dried
1 bunch of cilantro, chopped
Peanut Sauce
1/4 cup honey
1/4 cup creamy peanut butter
1/4 cup low-sodium soy sauce
Coconut oil
How to Make:
To make the peanut sauce, place the honey, peanut butter and soy sauce in a small bowl and whisk to combine. Set aside.
Thoroughly coat grill pan with coconut oil. Grill tofu for 5 minutes on each side, or until crispy. Remove from heat and slice into strips.
To prepare vegetables, use a julienne peeler, creating vegetable "noodles" out of carrots and cucumbers.
Cut bell pepper, remove seeds and slice into matchsticks.
Layer tofu, bell pepper, carrots, cilantro and cucumber in lettuce leaves or collard greens, drizzle with peanut sauce and roll up! Use toothpicks to secure leaves, if necessary.
Serve the veggie wraps with extra peanut sauce for dipping.

Veggie Burrito Bowls
What You'll Need:
1 1⁄2 cups canned black beans, rinsed and drained
1/2 teaspoons salt
1/2 teaspoon ground cumin
1/2 teaspoon chili powder
1/2 teaspoon granulated garlic
1 cup cooked brown rice (or any whole grain, like quinoa or buckwheat)
1 tomato, diced
1/4 cup red onion, diced
Juice of half a lime
1 tablespoon cilantro, chopped
1/2 red bell pepper, thinly sliced
1/2 cup corn kernels
1/2 cup roasted butternut squash, cubed
1/2 cup radish or cucumber, chopped or sliced
1/2 cup fresh kale, thinly sliced
1/2 avocado, sliced
1–2 cups leafy greens, like lettuce, arugula or spinach
How to Make:
In a small saucepan, heat black beans over medium heat. Stir in spices and rice until combined and heated through.
To make the salsa, stir together tomato, onion, lime juice and cilantro in a small bowl. Set aside.
Spoon rice and beans into the bottom of two serving bowls. Top with remaining veggies and tomato salsa. Enjoy.
Expert Tips:
When preparing grains for other meals, batch cook a large quantity and refrigerate or freeze leftovers. That way, you'll always have rice, quinoa, etc. ready to go for quick bowls or grain salads.
When making collard wraps, use the biggest, greenest leaves of the bunch, with no tears or discoloration. If you have time, soak the leaves in a bath of warm water and a splash of white vinegar to clean them and make them more flexible for rolling. Be sure to trim off any large or protruding ribs running down the middle of the leaves.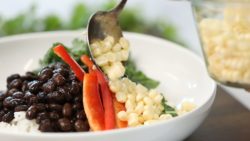 Show your support for local by submitting your thoughts and feedback here.