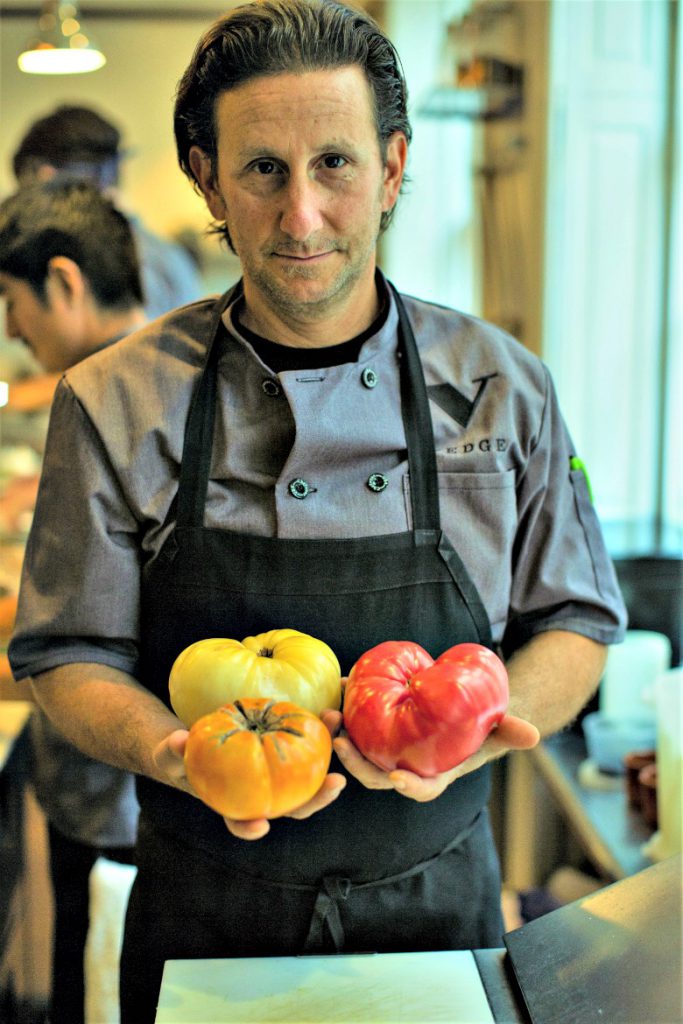 True to its namesake, Vedge in Philadelphia is a destination for inspiring plates of vegetable-based cuisine. In fact, Vedge is self-described as "a vegetable restaurant." The iconic cooking of chefs and owners Richard (Rich) Landau and Kate Jacoby has landed them heaps of praise from vegetarians, omnivores and culinary institutions alike.
The kitchen duo now have three Philadelphia restaurants, including V Street (a concept featuring global vegan street fare) and Wiz Kid (a playful vegetarian take on cheesesteaks and other fast, casual food). With nods from the James Beard Foundation and a victory on Food Network's Chopped, chef Rich has earned prestige in the culinary world through vegetarian cooking.
Naturally, chef Rich is a great source of knowledge for working with vegetables in the kitchen. Here are his tips on working with great local tomatoes and a recipe for an inspiring Heirloom Tomato Salad from his cookbook, Vedge: 100 Plates Large and Small That Redefine Vegetable Cooking.
Chef Rich's Tips for Tons of Tomatoes
Sourcing and Prepping
Get the best tomatoes you can find—make sure they are still a little firm and not mushy. Always wait to cut your tomatoes until right before serving them, and use a very sharp knife to keep the juices locked in.
Favorite Cooking Methods
Enjoy tomatoes raw, sprinkled with flaked salt and coarse pepper or drizzled with olive oil. Forego adding vinegar so that the natural acidity of the tomato can shine through. For cooking, look for plum tomatoes and roma tomatoes. A fresh tomato sauce takes only about 30 minutes to cook. Saute garlic and onion, add chopped tomatoes, season and cook into a chunky paste. You can add a little water and olive oil and simmer for longer before finishing with fresh herbs. This simple sauce is great on anything and is also a versatile base for Latin, Spanish, French, Moroccan and Greek sauces. You can also can your own tomatoes for rich sauces later on.
Recommended Seasonings and Pairings
Pairing tomatoes with basil is so timeless that it's hard to resist. Tomatoes also go great with dill and olives, or raw red onion for a crunchy counterpart. For an Asian touch, try shiso leaf with some toasted sesame seeds and a drizzle of good-quality tamari—it eats like tomato sushi.
Recipe: Heirloom Tomatoes with Grilled Shiitakes and Green Goddess
Chef Rich says, "Chefs start scratching our heads come mid-July, when the stockpiles of heirloom tomatoes outpace our ideas of what to do with them. I developed this salad as a fun take on the flavors of a classic BLT, and you may find it on the Dirt List at Vedge in late summer. Work to get a nice, crispy char on the shiitakes so that they take on a bacon-like smokiness. Better yet, if you're using an outdoor grill, toss a handful of woodchips on your coals. The throwback green goddess dressing makes use of the abundant summertime basil and could not have a better partner than all those tomatoes."
Ingredients
Shiitakes
10 large shiitake mushrooms, stems removed, caps wipes clean
2 tablespoons olive oil
1/4 teaspoon salt
1/4 teaspoon freshly ground black pepper
Green Goddess Dressing
1/4 cup loosely packed fresh basil leaves
1/2 cup vegan mayo
1 tablespoon freshly squeezed lemon juice
1 tablespoon fresh tarragon leaves
2 teaspoons capers, drained
2 teaspoons Dijon mustard
1 medium garlic clove
1/2 teaspoon salt
1/2 teaspoon freshly ground black pepper
Tomatoes
1 pound heirloom tomatoes or other best-quality tomatoes
1 tablespoon olive oil
1/2 teaspoon salt
1/2 teaspoon freshly ground black pepper
12 ounces mixed baby salad greens
Method
Toss the shiitake caps in a medium bowl with the olive oil, salt and pepper.
Heat a large sauté pan over high heat. Add the shiitake caps and sear them, turning occasionally to prevent burning, until they are crisp, 3 to 5 minutes. If you prefer to use an outdoor grill, first adjust the grates as close together as possible, then grill the shiitake caps until you see clearly defined grill marks, 2 to 3 minutes on each side. In either preparation, remove the mushrooms from the heat, allow them to cool to the touch, then slice into thin strips. Set aside.
Combine all of the green goddess ingredients plus 1 tablespoon water in a blender. Blend until smooth.
Slice the tomatoes into thick rounds. Arrange the slices on a serving dish or individual plates, then sprinkle with the olive oil, salt and pepper.
Spoon the dressing on top of the tomatoes. Top with the grilled shiitake slices and a nice handful of the baby salad greens. Serve immediately.
Written by Nathan Greenwood
Photo of Richard Landau by Yoni Nimroad
Credit recipe from Vedge: 100 Plates Large and Small That Redefine Vegetable Cooking, copyright © Rich Landau and Kate Jacoby, 2013. Reprinted by permission of the publisher, The Experiment. Available wherever books are sold.