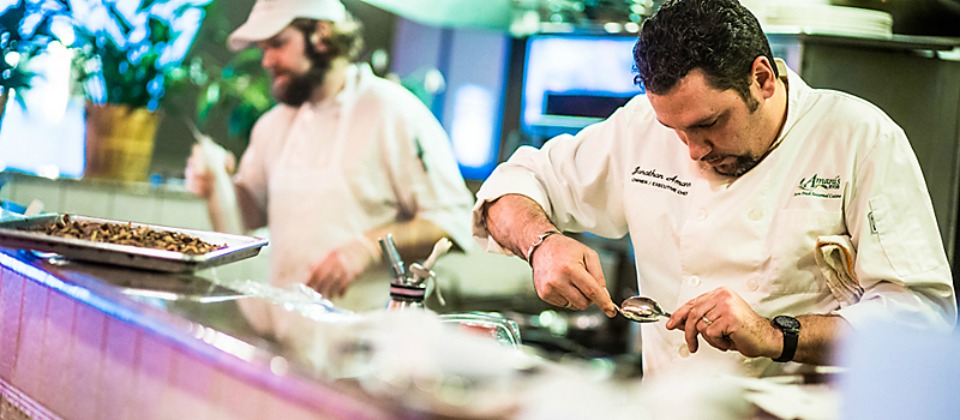 Chef Jon Amann's BYOB in Downingtown is a mecca for inventive, farm fresh and seasonal cuisine. The award-winning plates at Amani's BYOB are a testament to chef Jon's creativity using the area's bounty. Of course, locally grown vegetables play a huge part in fueling what comes out of chef Jon's kitchen. Here are his tips for tomatoes and leafy greens, along with his fabulous recipe for Smoked Heirloom Tomato Gazpacho (with blue crab and citrus poached shrimp, too!).
Chef Jon's Tips for Heirloom Tomatoes and Leafy Greens
Sourcing and Prepping
Avoid brown tips on the leaves and greens with excess moisture when selecting leafy vegetables. The brown is a sign of heat exposure, and too much water will cause the leaves to rot prematurely. With head lettuces such as bibb, iceberg or romaine, look for tight heads—this indicates the lettuce has good yield and was grown in optimal conditions.
Look for good coloration (a sign of ripeness) when selecting heirloom tomatoes. Heirlooms can vary widely in their appearance, so search the variety to see how it should look when ripe.
Also, look for bruises and cracks in the skin, as these should be avoided.
Favorite Cooking Methods
The obvious use for leafy greens is salads, but wilting them can be just as good. Shredded lettuce adds wonderful texture to dishes like fish tacos, or atop a piece of grilled fish. Make sure you slice the lettuce as thin as possible to get the right effect.
Try a simple stewed heirloom tomato broth with fish. You can also make your own heirloom tomato barbecue sauce for basting ribs and chicken on the grill!
Recommended Seasonings and Pairings
Try wilting arugula and serving it with grilled swordfish. Squeeze some fresh lemon juice over the whole plate. The peppery flavor of the arugula complements the char of the grill on the fish perfectly.
Smoking heirloom tomatoes imparts a robust flavor that resonates throughout a dish, and also complements crab and shrimp nicely. Heirloom tomatoes also make a great match for locally grown spicy peppers like serranos.
Recipe: Smoked Heirloom Tomato Gazpacho, with Blue Crab and Citrus Poached Shrimp
Ingredients
6 large heirloom tomatoes, cut into top and bottom halves
2 cucumbers, peeled and cut into 8 pieces each
1 medium Vidalia onion, peeled, 1-inch dice
1 serrano chili, quartered and stem removed
1/4 cup white wine vinegar
1/2 tablespoon ground cumin
1/2 tablespoon ground coriander
1/2 tablespoon smoked paprika
2 limes, juiced
1 pound blue crab claw meat
1/2 cup extra virgin olive oil
Sea salt and freshly ground black pepper to taste
Method
Smoked tomatoes:
Prepare smoker to 200 degrees.
Season tomato halves with salt and pepper and place on a tray that will fit in smoker. Tray should be large enough to catch any juices that accumulate.
Smoke for 30–45 minutes.
Reserve for gazpacho preparation.
Gazpacho
Combine all vegetables in a blender with vinegar, spices and lime juice. This may require multiple batches depending on the size of the blender. If so, transfer each blended batch to a container big enough to fit it all.
Use an immersion blender and add the olive oil slowly to the entire batch of vegetable purée.
Add the blue crab and season with salt and pepper to taste.
Serve chilled with the citrus poached shrimp as a garnish.
Recipe: Citrus Poached Shrimp
Ingredients
1 cup orange juice
1 cup grapefruit juice
1/2 cup lemon juice
1/2 cup Key lime juice
1 tablespoon mustard seed
1 tablespoon coriander seed
1 tablespoon pink peppercorns
1 pound baby shrimp
Method
Combine all ingredients, except shrimp, in a sauce pot and boil; turn down to simmer for 5 minutes allowing spices to steep in the juice blend.
Strain the juice into another pot; return to the heat and add the shrimp.
Cook shrimp for about 1–2 minutes, or until just cooked.
Strain and chill shrimp.
Chop slightly and use to garnish gazpacho.
Written by Nathan Greenwood
Photo of Jon Amann by Hoffer Photography