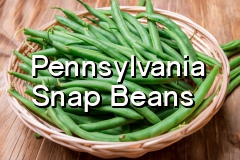 In Season:
July to October
Shopping and Prep Tips:
Select long, slender pods free of scars.  Refrigerate in a plastic bag.
Snap Bean News and Recipes
Looking for a delicious green bean recipe?!  Try Dressed Up Green Beans or visit our recipe page for more recipes.
Dressed Up Green Beans
1 lb Snap Beans – fresh, green and yellow, trimmed
1 ½ c Mushrooms – fresh
2 T Green Onions – chopped
2 T Butter
2 T Savory – fresh, minced
2 T Parsley – fresh, minced
1 T Lemon Juice
1 T Cider Vinegar
1 T Vegetable Oil
1 tsp Sugar
1 tsp Salt
1/8 tsp Pepper
4 Bacon Strips – cooked and crumbled
Place the beans in a steamer basket in a saucepan over 1 in. of water. Bring to a boil, cover and steam for 7 to 9 minutes or until crisp-tender. In a large skillet, sauté mushrooms and onion in butter until tender. Remove from heat, stir in savory, parsley, lemon juice, vinegar, oil, sugar, salt and fresh pepper. Add beans and toss to coat. Sprinkle with bacon.
Serves 4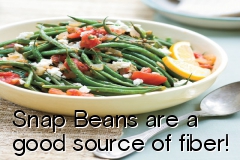 Health experts recommend that the average American should:
Choose a variety of vegetables each day to get a good mix of vitamins and minerals.
Eat between 2 and 3 cups of vegetables each day!  For more info on what should be on your plate each day, click here.
Strive to eat from five different groups of vegetables each week - dark green (3 cups), orange (2 cups), legumes (3 cups), starchy vegetables (3-6 cups) and

other vegetables

(6-7 cups)
Snap Beans fall under the other vegetables category and are fat free and a good source of fiber and Vitamin C.
For more nutritional information on the Snap Bean, click here.