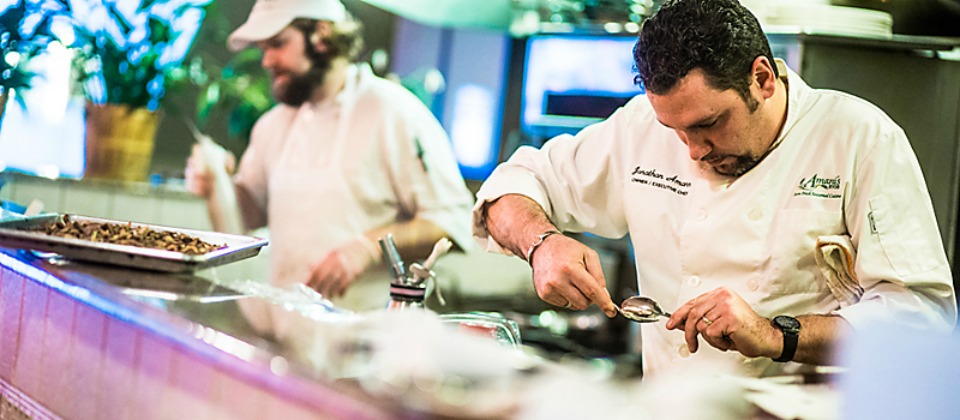 Chef Jon Amann's BYOB in Downingtown is a mecca for inventive, farm fresh and seasonal cuisine. The award-winning plates at Amani's BYOB are a testament to chef Jon's creativity using the area's bounty. Of course, locally grown vegetables play a huge part in fueling what comes out of chef Jon's kitchen. Here are his tips for tomatoes and leafy greens, along with his fabulous recipe for Smoked Heirloom Tomato Gazpacho (with blue crab and citrus poached shrimp, too!).
---
Chef Jon's Tips for Heirloom Tomatoes and Leafy Greens
Sourcing and Prepping
Avoid brown tips on the leaves and greens with excess moisture when selecting leafy vegetables. The brown is a sign of heat exposure, and too much water will cause the leaves to rot prematurely. With head lettuces such as bibb, iceberg or romaine, look for tight heads—this indicates the lettuce has good yield and was grown in optimal conditions.
Look for good coloration (a sign of ripeness) when selecting heirloom tomatoes. Heirlooms can vary widely in their appearance, so search the variety to see how it should look when ripe.
Also, look for bruises and cracks in the skin, as these should be avoided.
Favorite Cooking Methods
The obvious use for leafy greens is salads, but wilting them can be just as good. Shredded lettuce adds wonderful texture to dishes like fish tacos, or atop a piece of grilled fish. Make sure you slice the lettuce as thin as possible to get the right effect.
Try a simple stewed heirloom tomato broth with fish. You can also make your own heirloom tomato barbecue sauce for basting ribs and chicken on the grill!
Recommended Seasonings and Pairings
Try wilting arugula and serving it with grilled swordfish. Squeeze some fresh lemon juice over the whole plate. The peppery flavor of the arugula complements the char of the grill on the fish perfectly.
Smoking heirloom tomatoes imparts a robust flavor that resonates throughout a dish, and also complements crab and shrimp nicely. Heirloom tomatoes also make a great match for locally grown spicy peppers like serranos.
---
---
Written by Nathan Greenwood
Photo of Jon Amann by Hoffer Photography