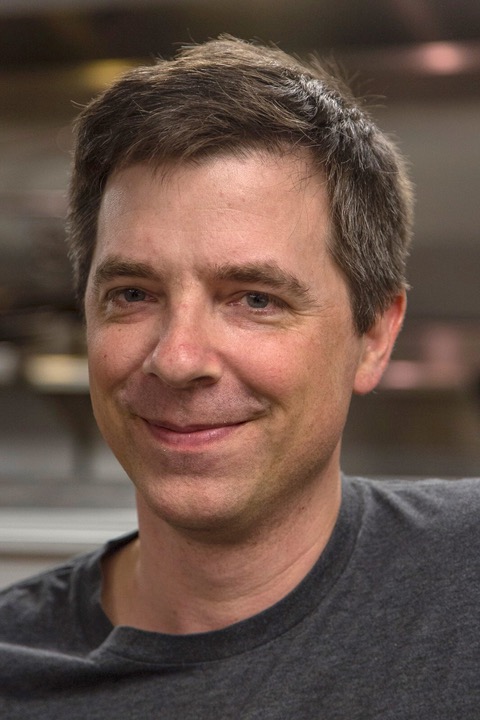 Proud Pennsylvania resident Trevett Hooper hails from a place where the Slow Food Movement started and having your own vegetable patch is the norm. Growing up in Maine, the land of wild blueberries, gave Chef Hooper an early appreciation for farm fresh produce. He still speaks fondly of memories of his family garden.
Today he is the renowned chef at Legume, a much-lauded Pittsburgh restaurant with a focus on Pennsylvania's farm fresh, sustainable ingredients. A James Beard award nominee and accomplished chef, Hooper knows his way around the kitchen. Luckily for us, he's willing to share his knowledge with his recipe for Corn Soup (below).
Recipe: Corn Soup
Ingredients
10–12 ears of corn
A few sprigs of fresh thyme (optional)
1 stick butter
1½ large sweet onions, diced
1 clove garlic, minced
Pinch turmeric
1 cup cream
Method
Shuck the corn, and take kernels off the cob with either a corn zipper (better) or a sharp knife. You should end up with about 7 cups of corn kernels.
Break the cobs in half with your hand, and put them in a pot with 2 quarts of water. Bring water to a boil and add a sprig or two of thyme, one bay leaf and a pinch of salt. Turn heat down and keep at a robust simmer for about 30 minutes, or until the water tastes corny.
At this point, take out the corn cobs and pour the liquid through a strainer into a container. Set aside.
While the corn stock is simmering, slowly sauté onions in butter with 1 tablespoon sea salt until soft. Add garlic and turmeric and cook for two minutes.
Add corn kernels and cook another 10 minutes until soft, being very careful not to let it color too much.
Cover the corn kernels with the corn stock by about 1". (You may not need all the corn stock.)
Cook 25 minutes, or until corn kernels are fully cooked.
Puree the soup in a blender.
Add cream and season with more salt as needed.
Adjust consistency with leftover corn stock.
Once the soup is made, there are many ways to garnish it, so be creative! One of our customers' favorite ways is with crab meat, smoked chile oil and cilantro. Smoked salmon and dill also make very good additions.
Tips from Chef Trevett Hooper
Buy a corn zipper for perfectly cut kernels in no time. Skip the knife.
Corn is versatile. Try it in soups, ragouts, stews and salads. It goes with lots of flavors and gives great flavor, color and texture.
Never refrigerate tomatoes that you're going to eat raw. They're always better at room temperature.
Look for "new potatoes" from local farmers. They're wonderful roasted or in salads and have unmatched sweetness and texture.
Easy roasted onion: Quarter a sweet onion from the stem to the root (so the rings stay attached). Top with butter, thyme and salt. Wrap in foil and bake at 325 degrees for 45 minutes or until tender. Perfect with steak, chicken or next to any vegetable! Simple and delicious.
Written by Nathan Greenwood
Recipe by Trevett Hooper
Photo of Trevett Hooper by Matthew Conboy