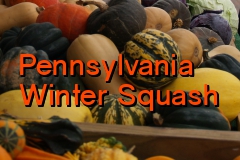 In Season:
September to December
Shopping and Prep Tips:
Select squash that are heavy for their size with no soft spots.
Some of the most common PA Winter Squash varieties are:
Acorn, Butternut, Delicata and Spaghetti
Squash News and Recipes
Spaghetti Squash is a popular squash in Pennsylvania and when cooked the squash can be pulled apart to form slender strands similar to spaghetti.
A spaghetti squash can be prepared many different ways.
Bake it whole!  Pierce the shell several times and bake in oven on 350F for 1 hr and 30 minutes or until squash gives when you squeeze it.
Microwave it whole!  Again, pierce the shell several times (or it may explode) and microwave it 6 minutes and turn it over and heat it for 6 more minutes or until it gives when you squeeze it.
Slow cook it whole!  Put the spaghetti squash in the slower cooker and add 1/2 cup water. Cook on high for 2 1/2 hours or until it gives when you squeeze it.
Then serve it with your favorite pasta sauce!            
OR
try Spaghetti Squash Casserole or other recipes on the recipe page!
Health experts recommend that the average American should:
Choose a variety of vegetables each day to get a good mix of vitamins and minerals.
Eat between 2 and 3 cups of vegetables each day!  For more info on what should be on your plate each day, click here.
Strive to eat from five different groups of vegetables each week - dark green (3 cups),

orange

(2 cups), legumes (3 cups), starchy vegetables (3-6 cups) and other vegetables (6-7 cups)

Winter Squash falls under the orange vegetable category and is fat free and sodium free!
For more nutritional information on:
Acorn Squash - click here
Butternut Squash - click here
Delicata Squash - click here