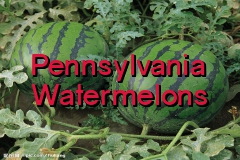 In Season:
July to October
Shopping and Prep Tips:
Select firm melons with a rich green color and waxy dull surface.
Watermelon News and Recipes
Did you know that....   watermelons are made up of about 92% water.
This summer try Watermelon Salsa!
Watermelon Salsa
1 1/2 c. Watermelon - chopped
1 c. Cucumber – chopped
1/2 c. Red Onion – chopped
2 T. Cilantro – fresh, chopped
2 T. Olive Oil
2 tsp. Serrano Chile Pepper - minced
1/4 tsp. Sea Salt
Mix all ingredients until well blended. Serve with corn chips.
Recipe by: Kathy Rohrbaugh, Shrewsbury
Finalist - Melons/Cucumbers
2008 Pennsylvania "Simply Delicious, Simply Nutritious" Vegetable Recipe Contest
For more melon recipes, click here.
Health experts recommend that the average American should:
Choose a variety of vegetables and fruits each day to get a good mix of vitamins and minerals.
Eat between five to nine servings of vegetables and fruits each day!  For more info on what should be on your plate each day, click here.
Watermelon is fat free and cholesterol free!
For more nutritional information on the watermelon, click here.