In Season: 
July to October
Shopping and Prep Tips:
Select fresh green husks with ears filled to the tip.  Should be served immediately or refrigerated until cooked.
Sweet Corn News and Recipes
Chef Josh Fidler is the mastermind behind Fidler & Co. Craft Kitchen & Grocery in Gettysburg. This Adams County gem churns out some of the most revelatory cuisine around with a mashup of fusion flavors and careful attention to the freshest locally sourced ingredients. Pennsylvania produce has a prime spot on the menu at Fidler & Co.
"I look forward to tomatoes and corn the most," says Chef Josh.  Read more
For more ideas on preparing your Pennsylvania sweet corn, visit our recipes page.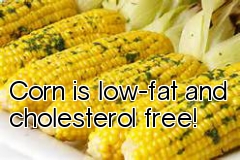 Health experts recommend that the average American should:
Choose a variety of vegetables each day to get a good mix of vitamins and minerals.
Eat between 2 and 3 cups of vegetables each day!  For more info on what should be on your plate each day, click here.
Strive to eat from five different groups of vegetables each week - dark green (3 cups), orange (2 cups), legumes (3 cups),

starchy vegetables (3-6 cups)

and other vegetables (6-7 cups)
Sweet corn is a starchy vegetable and is low-fat and cholesterol free!
Fore more nutritional information on Sweet Corn, click here.