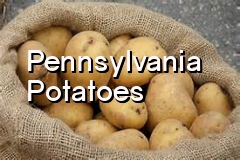 In Season:
August to March
Shopping and Prep Tips:
Select firm, smooth, well-shaped potatoes that are free from sprouts.  Store in a cool, dark, dry place but do not refrigerate.
Potato News and Recipes
PA Chef grills sweet potatoes to create a delicious side.
Chef Kristin Butterworth, chef de cuisine at Lautrec of Nemacolin Woodlands Resort, is no stranger to the connection between the farm and the plate, having grown up in western Pennsylvania, where she learned to grow and pick vegetables before preparing and preserving them in the family kitchen. Chef Kristin's accolades include numerous Forbes Five-Star and AAA Five-Diamond awards.
"This is the time of year that if I'm home I do a lot of grilling … [and] simplicity is key," says Chef Kristin. "Being able to take these beautiful fresh vegetables and literally just pick them out of the garden [and cook them] is ideal. Cooking outside is an escape for everybody … to get out, enjoy the sunshine and really highlight the amazing fresh produce that we have going on in the area."  
Read more and discover the recipe for Grilled Sweet Potatoes with Jalapeno Honey.
Health experts recommend that the average American should:
Choose a variety of vegetables each day to get a good mix of vitamins and minerals.
Eat between 2 and 3 cups of vegetables each day!  For more info on what should be on your plate each day, click here.
Strive to eat from five different groups of vegetables each week - dark green (3 cups), orange (2 cups), legumes (3 cups), starchy vegetables (3-6 cups) and other vegetables (6-7 cups)
Potatoes fall under the starchy vegetable category and are a great source of potassium!
Sweet Potatoes fall under the orange vegetable category and are a good source of Vitamin A and C!
For more nutritional information:
on the potato, click here 
and the sweet potato, click here