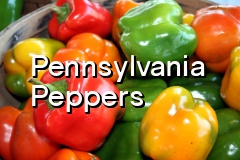 In Season:
July to October
Shopping and Prep Tips:
Select firm peppers that are heavy for their size with glossy color.  Can be briefly refrigerated.
Pepper News and Recipes
Peppers are a great addition to so many recipes!   Try Summer Zucchini Italian Style or check out more recipes with peppers here.
Summer Zucchini Italian Style
3 Zucchini, medium to large
1/4 lb Italian Sausage, fresh
1 c Mushrooms, canned sliced
1 Green pepper, finely diced
1 Sweet Onion, medium, finely diced
1 T Garlic, fresh, minced
Salt and Pepper, to taste
3 to 4 Roma Tomatoes, sliced in to thin slices
1 c Low Fat Mozzarella Cheese
1 jar Ragu Pizza Sauce (14 oz size)
Olive Oil Spray
Preheat oven 375 F. Halve the 3 zucchinis lengthwise. Hollow out the center of zucchini halves making a space for vegetable/meat filling. (Do not. hollow out too much of the center of the zucchini or the filling will not stay in the zucchini boat). Place zucchini halves in large baking pan with sides which has been sprayed with olive oil. In a large skillet, prepare filling by sauteing sausage on medium high heat until thoroughly cooked. Add onions, peppers, mushrooms, salt. pepper and garlic. Cook until tender, approximately 5 to 7 minutes. Add jar of Ragu pizza sauce, mixing well and heating through. Divide the filling into the 6 zucchini boats. Top with sliced tomatoes. Spray tops of tomatoes with olive oil spray. Cover with foil. Place in preheated oven and bake 25 to 30 minutes or until zucchinis are fork tender. The last five minutes, top with mozzarella cheese. Bake until melted.
Serves 6
entered by Kathy Rohrbach, Shrewsbury
2004 Pennsylvania "Simply Delicious, Simply Nutritious" Vegetable Recipe Contest
Health experts recommend that the average American should:
Choose a variety of vegetables each day to get a good mix of vitamins and minerals.
Eat between 2 and 3 cups of vegetables each day!  For more info on what should be on your plate each day, click here.
Strive to eat from five different groups of vegetables each week - dark green (3 cups), orange (2 cups), legumes (3 cups), starchy vegetables (3-6 cups) and

other vegetables

(6-7 cups)

Peppers fall under the other vegetables category and are very high in vitamin C!
For more nutritional information on the pepper, click here.