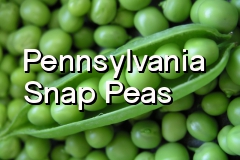 In Season:
May to June
Shopping and Prep Tips:
Select well-filled, bright green pods.  Refrigerate in an open plastic bag.
Snap Peas News and Recipes
Chicken and Veggie Stir-Fry
1 large boneless, skinless chicken half breast - thinly sliced
1 1/2 teaspoons soy sauce - divided
1 1/2 teaspoons minced ginger root
2 large cloves garlic, minced
1 teaspoon Asian sesame oil
3/4 cup chicken broth
2 teaspoons cornstarch
1 tablespoon olive oil
1 1/2 cups diagonally halved pea pods, ends trimmed
1/2 cup thinly sliced carrots
1/2 cup red bell pepper slivers
1 medium yellow onion - cut in slivers
1/3 cup dry roasted unsalted peanuts
generous grinding black pepper
4 servings cooked instant brown rice
2 green onions - sliced
Combine chicken, 1 teaspoon soy sauce, ginger root, garlic, and sesame oil then let stand 10 minutes. Combine chicken broth, cornstarch and 1/2 teaspoon soy sauce and set aside. Heat olive oil in large skillet or wok. Add pea pods, carrots, red pepper and onion then stir-fry for 1 minute. Add chicken, and then stir-fry 3 minutes. Add broth mixture, then cook and stir until boiling. While boiling, stir in peanuts and black pepper and then taste and add salt if needed. Serve stir-fry over the rice. Garnish it with green onions.
Serves 4
For more recipes, click here.
Health experts recommend that the average American should:
Choose a variety of vegetables each day to get a good mix of vitamins and minerals.
Eat between 2 and 3 cups of vegetables each day!  For more info on what should be on your plate each day, click here.
Strive to eat from five different groups of vegetables each week - dark green (3 cups), orange (2 cups), legumes (3 cups),

starchy vegetables

(3-6 cups) and other vegetables (6-7 cups)

Peas fall under the starchy vegetables and a good source of folate and dietary fiber.
For more nutritional information on peas, click here.