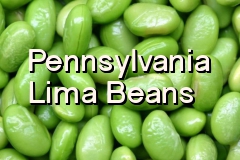 In Season:
July to October
Shopping and Prep Tips:
Select well-filled, dark green pods.  Refrigerate in a plastic bag.
Change up your salad this summer and try Lima Bean Salad!
Lima Bean Salad with Prosciutto & Arugula
1 T. Dijon Mustard
1 1/2 T. Lemon Juice - fresh
1/4 c. Olive Oil
10 oz. Baby Lima Beans - frozen
2 oz. Prosciutto - sliced thin and cut in 1/2 inch pieces
1 Red Onion - small, chopped finely
2 1/2 tsp. Tarragon Leaves - fresh, minced or 1 tsp. dried
1 c. Arugula Leaves - chopped
Salt and Pepper - to taste
In a serving bowl, whisk together the mustard, lemon juice, and salt and pepper to taste. Add the oil in a slow stream, whisking until combined. In a saucepan of boiling water, boil the lima beans for 2 minutes. Drain well. While still warm, toss the beans with the dressing, Prosciutto, onion, tarragon, arugula and salt and pepper to taste. Serve warm or at room temperature.
Submitted by Stephanie Meloy, Danville
2009 Pennsylvania "Simply Delicious, Simply Nutritious" Vegetable Recipe Contest
Click here for more Lima Bean recipes.
Health experts recommend that the average American should:
Choose a variety of vegetables each day to get a good mix of vitamins and minerals.
Eat between 2 and 3 cups of vegetables each day!  For more info on what should be on your plate each day, click here.
Strive to eat from five different groups of vegetables each week - dark green (3 cups), orange (2 cups), legumes (3 cups),

starchy vegetables

(3-6 cups) and other vegetables (6-7 cups)

Lima Beans fall under the starchy vegetable category and are a good source of fiber and protein.