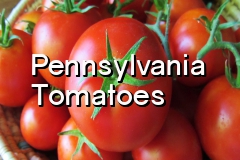 In Season:
July to October - field
April to July - greenhouse
October to December - greenhouse
Shopping and Prep Tips:
For best flavor, tomatoes must ripen to a deep red color and be slightly soft.  Store at room temperature until they ripen to this stage.  Never refrigerate until fully ripened.  Allow refrigerated tomatoes to come to room temperature before serving.
To learn more about tomato varieties, click here.
Tomato News and Recipes
It's the Season for Fresh, Local Tomatoes!
Now is the time to enjoy the taste of home-grown, field-ripened, Pennsylvania tomatoes. There is nothing better than a thick slice of a juicy dark-red tomato on your home-grilled burger or a BLT sandwich. Ripe, local tomatoes also add the finishing touch to a summer-time tossed salad. Growers are starting the peak of harvest season for one of the state's most valuable vegetable crops.  Read more
Check out our recipe page for tomato recipes!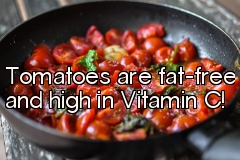 Health experts recommend that the average American should:
Choose a variety of vegetables each day to get a good mix of vitamins and minerals.
Eat between 2 and 3 cups of vegetables each day!  For more info on what should be on your plate each day, click here.
Strive to eat from five different groups of vegetables each week - dark green (3 cups), orange (2 cups), legumes (3 cups), starchy vegetables (3-6 cups) and

other vegetables

(6-7 cups)

Tomatoes fall under the other vegetables category
and are fat free and high in Vitamin C!
For more nutritional information on the tomato, click here.