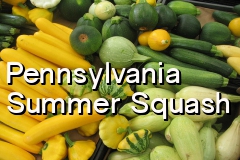 In Season:
June to October
Shopping and Prep Tips:
For tender flesh, select smaller summer squash.
Summer Squash News and Recipes
Summer Squash Pie
3 c. Zucchini and Yellow Squash - combined, grated with skin on
1/2 c. Onion - chopped
1/2 c. Mozzarella Cheese - grated
1/2 c. Swiss Cheese - grated
1/2 c. Parmesan Cheese - grated
1 c. Bacon - cooked, drained and crumbled
1 c. Italian Sausage - cooked, drained and crumbled
1 Pie Shell - unbaked, 9-inch
4 cloves Garlic - finely chopped and lightly sautéed in virgin olive oil
Preheat oven to 375ºF. Combine zucchini, squash, onion, cheeses, bacon, sausage, and garlic. Mix all ingredients well and pour mixture into pie shell. Bake for 30 to 40 minutes or until bubbly and golden brown on top.
Serves 8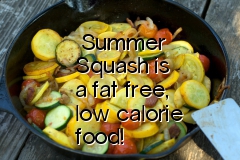 Health experts recommend that the average American should:
Choose a variety of vegetables each day to get a good mix of vitamins and minerals.
Eat between 2 and 3 cups of vegetables each day!  For more info on what should be on your plate each day, click here.
Strive to eat from five different groups of vegetables each week - dark green (3 cups), orange (2 cups), legumes (3 cups), starchy vegetables (3-6 cups) and other vegetables (6-7 cups)
Summer Squash is  fall under the other vegetables category and is high in folate and a good source of Vitamin A and C!
For more nutritional information on Summer Squash, click here.