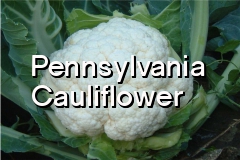 In Season:
June to July and September to November
Shopping and Prep Tips:
Select heads with a white or cream appearance.  Refrigerate in an open plastic bag.
Cauliflower News and Recipes
Make your own Cauliflower Rice
Break cauliflower into large florets.  Wash and rinse well.  Let the florets dry in a colander or pat dry with a towel so all moisture is removed.  
Cut florets into a smaller pieces and add to food processor and pulse until finely chopped (add small amounts of florets at a time).  A grater can be used for this step also.  Use the large grates.
Heat oil in skillet over medium heat.  Add cauliflower rice to skillet and cook for 5-8 minutes until cauliflower is soft and just starting to turn golden brown.  Add your own seasonings.
For more cauliflower recipes, click here.
Health experts recommend that the average American should:
Choose a variety of vegetables each day to get a good mix of vitamins and minerals.
Eat between 2 and 3 cups of vegetables each day!  For more info on what should be on your plate each day, click here.
Strive to eat from five different groups of vegetables each week - dark green (3 cups), orange (2 cups), legumes (3 cups), starchy vegetables (3-6 cups) and

other vegetables

(6-7 cups)
Cauliflower falls under the

other vegetables

category and is fat free!
Fore more nutritional information on cauliflower, click here.