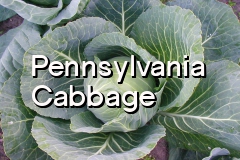 In Season:
June to December
Shopping and Prep Tips:
Select firm compact heads.  Avoid cutting until just before use.
Cabbage News and Recipes
Enjoy Some Fresh Pennsylvania Cabbage
Home-grown Pennsylvania cabbage is high in vitamin C and fiber as well as the cancer-fighting indole compounds. Cabbage is grown on about 1,200 acres in Pennsylvania, ranking the state thirteenth in cabbage production in the nation. It is grown on about 360 farms and brings in three to five million dollars in sales to growers. While cabbage is harvested thoughout the summer, the fall cabbage crop harvest is now well underway and will continue until winter sets in.
Eating cabbage - and other vegetables in the cabbage family like broccoli, Brussels sprouts, cauliflower, and kale - has been linked to decreases in cholesterol levels, blood pressure, peptic ulcers and various kinds of cancer as well as to increases in mental sharpness. The cabbage family is also known as the Cruciferae family because their flowers are shaped like a cross. According to the Wellness Encyclopedia of Food and Nutrition of the University of California at Berkeley, cruciferous vegetables contain indoles -- nitrogen compounds -- that seem to protect against cancers of the stomach and large intestine. They also are generally high in fiber and antioxidants like vitamin C and carotenoids. Antioxidants neutralize the action of free radicals -- unstable oxygen molecules -- which promote cancer. Cruciferous vegetables also contain compounds that stimulate the release of anticancer enzymes. Dietary experts have long recommended including cruciferous vegetables in the diet regularly, at least several times a week.  Read more
Click here for cabbage recipes.
Health experts recommend that the average American should:
Choose a variety of vegetables each day to get a good mix of vitamins and minerals.
Eat between 2 and 3 cups of vegetables each day!  For more info on what should be on your plate each day, click here.
Strive to eat from five different groups of vegetables each week - dark green (3 cups), orange (2 cups), legumes (3 cups), starchy vegetables (3-6 cups) and

other vegetables

(6-7 cups)
Cabbage falls under the

other vegetable

category and is very low in sodium!
For more nutritional information on cabbage, click here.