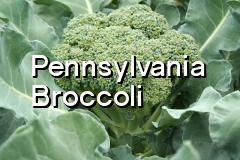 In Season:
June to July and September to November
Shopping and Prep Tips:
Select tight heads with dark green or purple buds.  Refrigerate in a vegetable crisper or an open plastic bag.
Broccoli News and Recipes
Pennsylvania Broccoli is Full of Nutrition
The cooler weather of fall promotes the best growth of the cabbage family crops like broccoli, Brussels sprounts, cabbage and cauliflower although they are also available in the spring and throughout the summer. While all of these crops are nutritious and healthy vegetable choices, broccoli is truly a nutritional superstar with high amounts of vitamin A, Vitamin C and dietary fiber plus cancer-fighting indole compounds. About 200 acres of broccoli, mostly in small acreages, are grown across Pennsylvania. The harvest of fall broccoli is well underway and will continue until winter sets in.  Read more
For broccoli recipes, click here.
Health experts recommend that the average American should:
Choose a variety of vegetables each day to get a good mix of vitamins and minerals.
Eat between 2 and 3 cups of vegetables each day!  For more info on what should be on your plate each day, click here.
Strive to eat from five different groups of vegetables each week -

dark green

(3 cups), orange (2 cups), legumes (3 cups), starchy vegetables (3-6 cups) and other vegetables (6-7 cups)
Broccoli falls under the

dark green

category and is a good source of dietary fiber and potassium!
For more nutritional information on broccoli, click here.