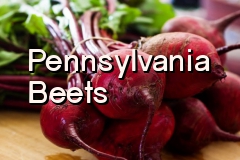 In Season:
July to December
Shopping and Prep Tips:
Select firm, medium-sized beets with deep red color.  Refrigerate in a plastic bag.
Health experts recommend that the average American should:
Choose a variety of vegetables each day to get a good mix of vitamins and minerals.
Eat between 2 and 3 cups of vegetables each day!  For more info on what should be on your plate each day, click here.
Strive to eat from five different groups of vegetables each week - dark green (3 cups), orange (2 cups), legumes (3 cups), starchy vegetables (3-6 cups) and

other vegetables

(6-7 cups)

Beets fall under the other vegetables category and are fat free and cholesterol free!
For more nutritional information on the beet, click here.