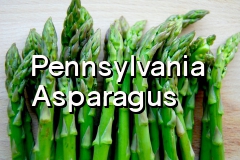 In Season:
April to June
Shopping and Prep Tips:
Select thick stalks with less than an inch of woody base.  Prepare immediately after purchase.
Asparagus News and Recipes
Enjoy Pennsylvania Asparagus all year round with these recipes
by Nancy Hanst, Pittsburgh Post-Gazette
Home-grown asparagus is worth waiting a year for. 
Now, I know that Peru produces tons and tons of it. California and Arizona ship beautiful specimens of it. So, maybe, if I moved to Peru or California or Arizona, I could say the same about their home-growns. But I'm staying put and what I know for sure is that Western Pennsylvania's asparagus is beyond compare. And I can't get enough of it.
That's a problem, but I have three ways around it. 
When the supply peaks and the asparagus is most luscious, I get to the farm market and buy 7-1/4 pounds of the lovely green stalks. That's the amount needed for three dishes to be prepared for the freezer. After I've safely tucked away my future stash, I can return to the pleasures of here and now, enjoying asparagus as many ways as I can find recipes, at least every other day.   read more
Visit the PA Veggies recipe page for more recipes!
Health experts recommend that the average American should:
Choose a variety of vegetables each day to get a good mix of vitamins and minerals.
Eat between 2 and 3 cups of vegetables each day!  For more info on what should be on your plate each day, click here.
Strive to eat from five different groups of vegetables each week - dark green (3 cups), orange (2 cups), legumes (3 cups), starchy vegetables (3-6 cups) and

other vegetables

(6-7 cups)
Asparagus fall under the other vegetables category and is high in folate and a good source of Vitamin A and C!
For more nutritional information on Asparagus, click here.