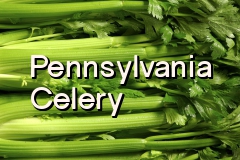 In Season:
June to February
Shopping and Prep Tips:
Select light green stalks that are smooth along the side.
Celery News and Recipes
Celery can be enjoyed many ways!
chop and add it to salads.
enjoy with peanut butter or cream cheese.
add celery leaves to your salad.
perfect addition to soups and stews.
For more ideas, check out the Top 10 Ways to Enjoy Celery.
Health experts recommend that the average American should:
Choose a variety of vegetables each day to get a good mix of vitamins and minerals.
Eat between 2 and 3 cups of vegetables each day!  For more info on what should be on your plate each day, click here.
Strive to eat from five different groups of vegetables each week - dark green (3 cups), orange (2 cups), legumes (3 cups), starchy vegetables (3-6 cups) and

other vegetables

(6-7 cups)

Celery falls under the other vegetables category
and is fat free and very low in calories!
For more nutritional information on the celery, click here.