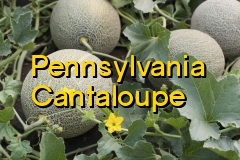 In Season:
July to September
Shopping and Prep Tips:
Select melons with a thick netting, golden color and delicate aroma.  Refrigerate only after fully ripe.
Cantaloupe News and Recipes
Phoebe Canakis uses inspiration from farm-rich Lancaster and Berks County to dream up the packed-with-Pennsylvania-produce recipes she shares on her blog, Phoebe's Pure Food.
"Buying in-season and locally and using the tools my parents taught me are at the core of what I do," she said. "My parents are amazing cooks, and it's something I picked up from them."
A veteran of the cafe and coffee industry—plus her own meal delivery and catering business focusing on vegan/vegetarian, local and organic—Phoebe began blogging before blogging was cool. Friends encouraged her to podcast, a natural outlet for her love of storytelling and sharing all things veggie. The rest is delicious history. 
Speaking of delicious, Phoebe was kind enough to share her recipe for Chilled Cantaloupe Soup. "This vegan Chilled Cantaloupe Soup always surprises folks who would otherwise never enjoy it because of the cantaloupe," Phoebe explained. "I think it's one of those flavors you love or don't. It was always a favorite of my private chef clients and I've served it for special events. The secret? Peaches!"    Read more for the recipe
Health experts recommend that the average American should:
Choose a variety of vegetables and fruits each day to get a good mix of vitamins and minerals.
Eat between five to nine servings of vegetables and fruits each day!  For more info on what should be on your plate each day, click here.
Cantaloupe is high in vitamin A and C and is a great source of folate.
For more nutritional information on the cantaloupe, click here.